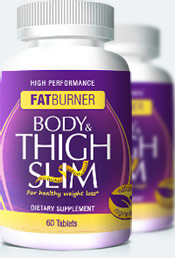 Green tea is well known for its countless health benefits, but did you know that a cup of the green stuff can help trim those unwanted love handles of yours? Body & Thigh Slim harnesses the natural fat-burning potential of green tea in a twice daily dietary supplement. As most of you know, excess pockets of body fat are one of the underlying causes of cellulite. For this reason, we recommend Body & Thigh Slim for ladies with severe cases of cellulite looking to tighten and tone their thighs, stomach and buttocks.
But how does Body & Thigh Slim work? Well, this green tea fat-burner helps slim down jiggly thighs in two ways. First, it boosts your metabolic rate to burn off fatty deposits faster, even when you're not exercising. If that wasn't great enough on its own, listen to this. Body & Thigh Slim also helps you resist unwanted food cravings all day - no more compulsive snacking!
If your willpower is buckling under the pressure of sticking to a calorie-restricted diet, consider Body & Thigh Slim your secret weapon to becoming a slimmer, sexier you!
Body & Thigh Slim Ingredients
We here at CelluliteTreatment.org normally do not endorse weight loss supplements, since so many have synthetic ingredients that cause serious side effects, like liver damage, stroke, and death. Body & Thigh Slim is made of herbal extracts, and does not contain ephedra, bitter orange, or other risky ingredients commonly associated with fat-burners. Body & Thigh Slim contains the following ingredients:
Green tea extract (Carnella sinensis): Green tea contains EGCG (epigallocatechin gallate), a potent antioxidant responsible for stimulating fat oxidation. Green tea also contains caffeine, which helps boost your metabolism and suppress appetite.


Green Coffee extract: Green coffee contains chlorogenic acid, a fat burning antioxidant that increases lipolysis and decreases fat accumulation. Much like green tea, green coffee also contains caffeine to curb hunger cravings and boost metabolic rate.


Raspberry Ketones: Raspberry ketones are another potent fat burning ingredient. They also regulate adiponectin levels to promote a healthy metabolism.


Chromium: Chromium is an essential nutrient which governs blood sugar levels and fat metabolism. Chromium also helps reduce hunger cravings and snaking between meals.


Does Body & Thigh Slim Work?
Body & Thigh Slim is a relatively new product, but the word is spreading fast on this amazing green tea supplement. Body & Thigh Slim not only suppresses your appetite, but also gives you a steady boost of energy throughout the day. What does this mean for you? No more 2pm office munching and fatigue.
The great thing about this product is that it works great for athletic types as well as the rest of us. If sports and exercising is your thing, you'll be happily surprised to realize how much more you can get out of your workouts with Body & Thigh Slim.
Where to Buy Body & Thigh Slim
Normally, one 60 tablet bottle of Body & Thigh Slim costs $79.95, but if you buy 3 bottles, you can save $20 dollars off the retail price. However, the manufacturer is currently offering a two week free trial.