On Cellutone's official website, the company tires to sell you on the idea that the use of diuretics like caffeine in cellulite creams is inherently bad for you. Cellutone also makes the claim that massage techniques are actually harmful. The latter statement flies in the face of what many therapists have stated for years. In both the cosmetic and medical realms, massage had numerous benefits, including aiding the lymphatic system and improving circulation. Both of these things assist in improving skin texture, appearance and tone. However, L'Avenir, the manufacturer, claims that massaging the skin will make it saggy.
Cellutone Goodbye Cellulite also claims that cellulite is caused by bunches of lumpy lipid filled fat cells clumping together due to lack of exercise. In reality, cellulite is really fatty tissue that is trapped by the connective tissues beneath the skin's layers and exercise has very little effectiveness when you try to get rid of cellulite.
Cellutone ingredients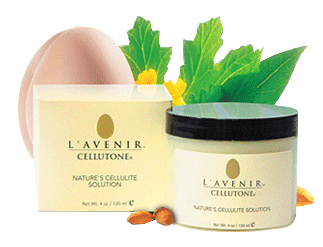 Cellutone boasts that it is the only cellulite removal cream in existence that utilizes 70 vitamins and minerals and proteins from Ovasome, an egg based product that is blended with several patented essential oils. These oils are said to stimulate the blood flow and break down toxins.

Other ingredients are as follows:
Water / Prunus Amygdalus Dulcis (Sweet Almond) Oil / Hydrolyzed Whole Egg, Glycerin / Triethanolamine / PEG-8 / Glyceryl Stearate / Cetyl Lactate / Stearic Acid / Lavendula Angustifolia (Lavender) Oil / Maculatum (Geranium) Oil / Methylparaben / Paraffin / Sorbitan Stearate / Cyclomethicone / Dimethicone Copolyol / Juniperus Communis Oil / Pimenta Acris (Bay) Leaf Oil / Cuminum Cyminum (Cumin) Extract / Sambucus Nigra Flower Extract / Carum Carvi (Caraway) Extract / Salvia Officinalis (Sage) Extract / Carum Petroselinum (Parsley) Extract / Primula Veris (Cowslip) Extract / Phenoxyethanol / Propylparaben / Citrus Grandis (Grapefruit) Seed Extract
Cellutone cost
Cellutone has a 14-day free trial offer. If you do not call to cancel, you are billed the introductory price of $38 dollars. Be careful, as this may enroll you for an auto ship program in which Cellutone will ship more product and bill your credit card monthly without notification.
Does Cellutone work?
As anyone who has ever put a raw egg on their skin knows, it does have a tightening effect and can make the skin look smooth. However, once the egg is wiped away your skin it returns to its former appearance and consistency. With this in mind, one could theorize Cellutone works, but not in the way most women would like. Also, the product, despite having some natural ingredients, also has parabens which safety has come under fire recently.
Our advice is to continue to look for a product that will produce longer lasting, if not permanent, results and is truly all natural.