Firm Thighs and Reduce Cellulite
.

Are your thighs flabby and your cellulite is shinning through? Did you know that if you firm your thighs it can reduce the appearance of cellulite? In fact, loose skin causes cellulite to become more visible.
Firming thighs unlike treating cellulite is easy. So easy, you don't even have to move a muscle. Below are great skin firming products and remedies to tighten thighs and smooth cellulite away.
Read on.
Nivea Firming Lotion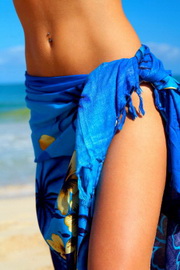 Nivea Firming Lotion is a great drugstore fix for loose and flabby skin. This product claims to visibly tone and firm skin in just three weeks. Let me tell you, they're wrong; I tried this product and saw results in days! Like most women I didn't go to the gym as much as I should. My thighs were beginning to droop and my cellulite was becoming more apparent. I needed a boost for my thighs and self esteem.
After giving Nivea a try, I noticed my thighs were firmer. It was just the motivation I needed to head back to the gym. Now I'm not ashamed to work out in gym shorts.
The Nivea Skin Firming Lotion works so well because it has Q10, a natural coenzyme found in the skin which helps your body regain lost elasticity and firmness. I recommend using this product daily and try to go to the gym for optimum results. However, on its own this product does wonders to firm thighs and buttocks. Now I don't sweat the cellulite as much ;)
True Blue Spa "KONA COFFEE" Body Scrub
This coffee scrub is another top favorite of mine. Unlike, the Nivea Firming Lotion this product firms skin and is an anti-cellulite treatment. It is a body scrub made with coffee grounds that should be applied in the shower. I absolutely love this scrub because of the way it works and smells. It smells like a fresh cup of coffee an it's an instant pick-me-up during a morning shower.
The caffeine in the scrub works to energize your fat cells and get them circulating through your body. This helps to fight cellulite since cellulite is fat trapped in local areas of the body. Massage this scrub on your cellulite to spread cellulite away. Afterward, you can do what I do and apply Nivea Firming Lotion right after the shower. This scrub can be found at your local Bath & Body Works.
Firm Thighs with At Home Brush Massage
A great home remedy to tone skin, reduce cellulite, and improve circulation is dry brushing. Yes, you can mimic expensive cellulite massage treatments by doing it yourself. Just grab a soft bristle brush and gently massage dry skin in circular rotations for ten minutes a day. This will help smooth cellulite and improve muscle tone.
Overall, there are great ways to firm skin and reduce cellulite with out exercise or spending major bucks. However, you will receive optimum results if you combine any of these three simple techniques with a cellulite work out or cellulite treatment plan.
Browse our site for other product reviews, home remedies, and cellulite treatments. Here we have all the information you need to improve your body and make cellulite worries a thing of the past.