Fat Girl Slim Cellulite Cream
Rated:
5.6

out of

10


by

CelluliteTreatment.org
.

Innovations like a diet supplement sprinkled over food, make up that provides perfect coverage and liposuction done with a laser make it easy to be beautiful. Unfortunately, no matter how many revolutionary products are available, there is still no cure for cellulite. These unsightly marks make it difficult for women to be comfortable with their bodies. Even the items that have shown success are hard to purchase because there are many inferior products that boast false claims. That is why we review cellulite creams to discover the brands that offer hope and proven results.
Fat Girl Slim Review
Bliss Spa sells a cellulite cream that will not be the next big thing in the cosmetic world. The Fat Girl Slim cellulite treatment looks promising because it is supposed to fight cellulite and give the body a sleeker appearance. We found that the results were not worth the price tag, and this is another inferior product that does not offer a real difference.
Fat Girl Slim Benefits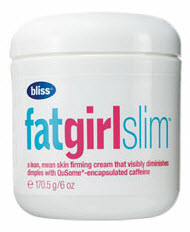 The biggest benefit of Fat Girl Slim is that it claims to offer solutions to multiple problems. A 6 oz. cream that fights cellulite, slims the body and smooths and firms skin for $35.00 is an amazing value. Plus, it is supposed to show results in under a month. We were impressed by the hype, but Fat Girl Slim did not live up to its expectations. There was no noticeable cellulite change. Some of us did have firmer skin, but it is difficult to prove the product is the cause of this or a slimmer appearance. This is because those that saw an improvement were exercising and eating healthy, and they thought a healthy lifestyle was more responsible for benefits than this cream. The best actual effect of Fat Girl Slim was improved smoothness. However, this makes the product an expensive lotion instead of a great value.
Ingredients
It is hard to know what you put on your body when a label lists many foreign ingredients. When explaining the ingredients in Fat Girl Slim in plain English, it is easy to see why the product falls short of expectations. Mystery chemicals like caprylic triglycerides, butylene glycol, methylisothiazolinone and PEG-12 distearate have links to various medical problems like heart disease and brain damage. Caffeine is the best offering the cream has, but there are too many unnecessary additives to make the caffeine effective against cellulite.
Directions and Warnings
Fat Girl Slim is as easy to use as any lotion as it goes directly onto troubled areas of the body. Massage the cream into skin twice a day for about 30 seconds. While the chemical agents in the product are a little alarming, there is no evidence to suggest any negative side effects attached to the product.
In Depth Fat Girl Slim Review
Fat Girl Slim is not a terrible product, but it has a case of mistaken identity. We like the cream because it applies easily, has a pleasant scent and does not take long to dry. The soft and smooth feeling the cream provides makes us think it would be better labeled as a moisturizing lotion. The downside of the cream is that it does nothing to reduce cellulite, and we also feel more comfortable using products that do not have as many chemical additives.
Those that want a cellulite cream will not find what they are looking for when they buy Fat Girl Slim. While cellulite is a problem for many women, there are some products that do what is promised. Our product reviews chart shows you the top rated cellulite creams.